The bathroom is everyone's least favorite space to clean. Between soap scum and dirty toilets, if you don't keep up with it on a regular basis, it can be a tough job. If you want to keep your bathroom in good shape, it's important to give it a good deep clean a few times throughout the year.
Not sure how to deep clean a bathroom? Read on to find out how!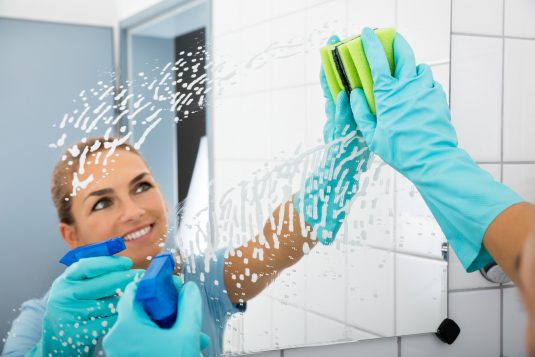 Start with the Shower
The night before you get to work on your cleaning, put some white vinegar in a plastic grocery bag and tie it around the showerhead nozzle so the head is submerged in the vinegar. Leave overnight to help clear out hard water residue.
In the morning, rinse the showerhead with water. Then, spray down the walls of your shower with a mixture of water and vinegar. Let it sit for a few minutes, and then scrub away the grime.
Take down your shower curtain and run it through your washing machine to make sure it also super clean. Let it hang to dry.
Scrub the Tub
Wet down your tub and tile and sprinkle it with your favorite abrasive bathtub cleaner. Let it sit and then scrub away built-up soap scum.
Dealing with a slow drain in the tub?
First, make sure the drain is clear of any debris or hair. Then, throw a half cup of baking soda down the drain and follow with a half cup of white vinegar. Immediately follow up with a pot of boiling water.
Don't Forget the Toilet
Pour a cup of baking soda into the toilet and let it sit for a few minutes before you scrub the toilet to remove any rings or build up. If you're still seeing stains, then it's time to break out the big guns.
Drain the toilet of water and shut off the water. Sprinkle some abrasive cleaner in the bowl and scrub away any mineral deposits with a pumice stone.
The Sink, Too
Don't forget the sink!
Spray your mixture of vinegar and water in the basin to wipe away any built-up grime. Then do the same to the faucet and fixtures to make sure that they are polished and clean.
Spray down the bathroom mirror and medicine cabinet as well and wipe away to reveal a sparkling clean bathroom!
Hire Help Who Know How to Deep Clean a Bathroom
We're all super busy in today's world. Between work, family, and social obligations, there's often little time left in the day left for ourselves. Who wants to spend valuable time cleaning?
If you're one of those busy people, or if you despise cleaning, consider hiring house cleaning services.
Ready to Clean?
Learning how to deep clean a bathroom isn't a difficult task. With a little elbow grease, you'll become the proud owner of a sparkling clean bathroom in no time. If you don't have time to finish the task, don't even hesitate to call your local house cleaners to come and take care of things.
Are you interested in learning more about being a homeowner? You've come to the right place! Check out the rest of our blog for everything you need to keep your home looking great!