If you think that your bedroom misses something, then it is time for some changes. Making your own DIY bedroom decor sounds like a great idea. You can make unique and fun decor, that will not hurt your wallet. Are you ready? Take a look at these wonderful ideas and get inspired!
Pom pom rug
How about making a super cool rug out of pom poms? This project might take some time, but the outcome is so amazing. Use yarn to make some pom poms and sew them onto a net. Easy one!

Old towel rug
Another cute and  fluffy rug that you will like. This one uses strips of old towels. They will make the whole structure even fluffier.

DIY Headboard
Is your bed missing a headboard? Then, you should make one yourself using ropes and pipes.

Cool shelves
Shelves are always a nice idea, as you will have more storage available. Including some hooks will make it more functional, and you can hang sunglasses too.
See also:
Elegant DIY Home Decor That Does Not Look Like You Have Made It Yourself

No sew pillow case
The easiest way to freshen up the look of your room is to change the pillow cases. And this idea will amaze you. You can do some cool and decorative pillow cases without any sewing. Take a look at the tutorial below and see the process.

Jewelry tray
A little bowl for leaving your jewelry will be so helpful. It is decorative and functional in the same time.

Paper bag wall decor
Despite for being decor, this one serves as storage too. This is one cool and cheap idea that you should implement.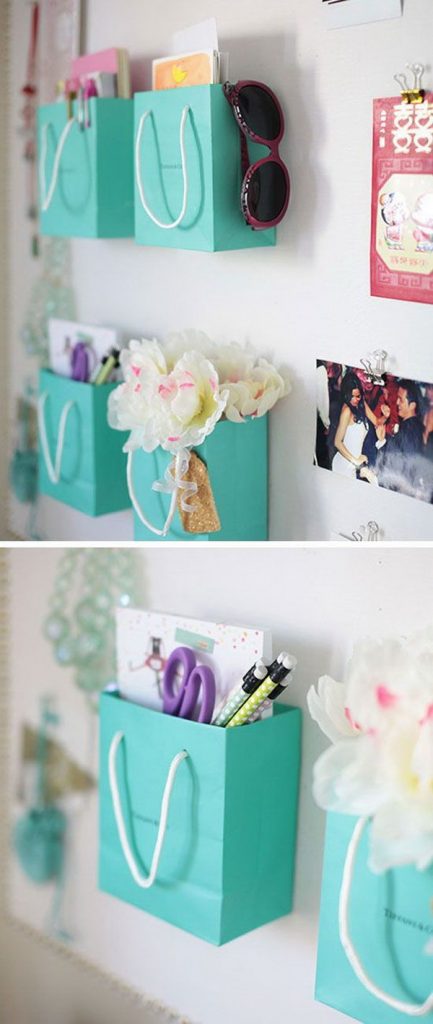 Rope planter
Including plants in your bedroom decor will bring some freshness. Stick some rope around your pots and it will be nice decor too.