Hey there my lovely people! How are you? For today, I have a very interesting post that is called "10 Unique Ways to Display Your Books ". Are you excited?
If you already have many books that only clutter your home and you can't even find the book that you want to read, than I need to say that you are on the right destination. The ideas below will awaken your creativity and make you organize your books! Enjoy and have fun!
SEE ALSO: Incredibly Creative Shelves For All Book Lovers
Fun Wagon Bookshelf 
The wagon that your kids adored when they were 3, can be transformed into a lovable bookshelf. The idea is fantastic and will make your space more interesting and fun without spending a fortune.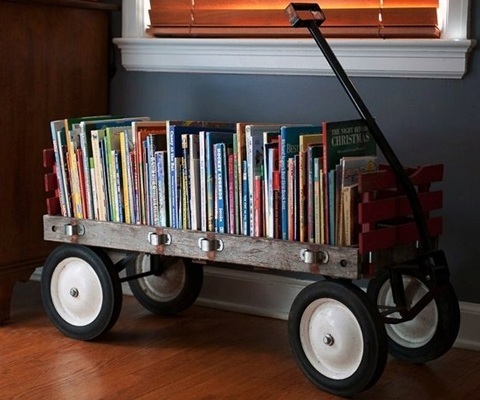 Fantastic Reading Zone You Would Love to Have at Home 
Fantastic idea that all book lovers would love to have in their homes. I find this reading nook very comfortable and interesting and the built-in bookshelves are fascinating.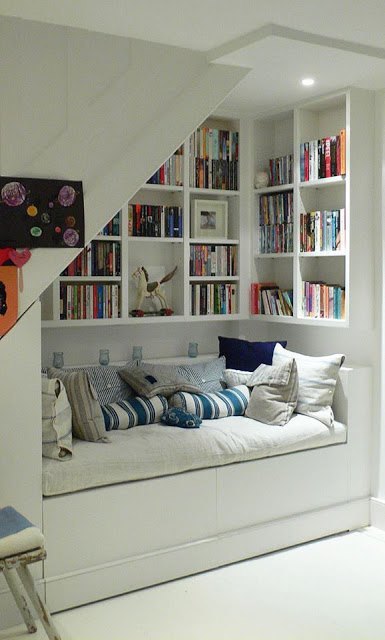 3D World Map Bookshelf Design for Your Living Room
If you were searching for futuristic bookshelf, then the idea below is for you. Plus, the good think is that you can try to make it at home. I really like this idea and I need to recognize that it is my favorite from this gallery.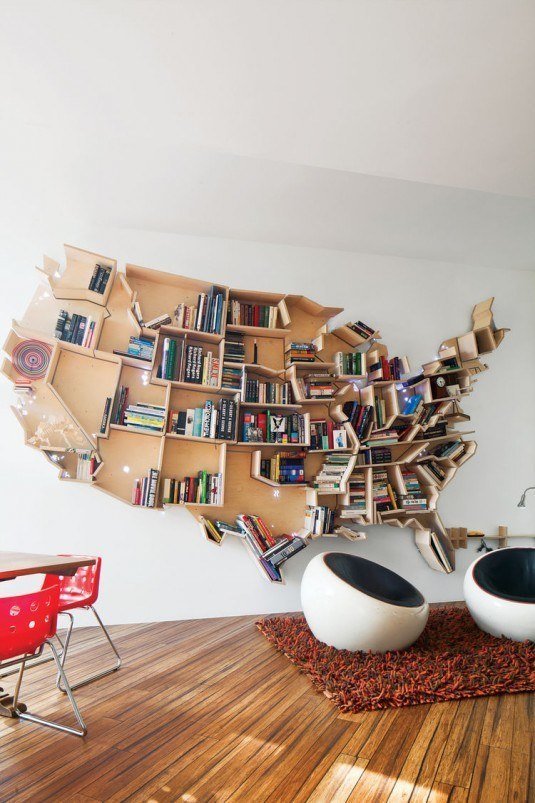 Turn the Whole Wall Into a Large Bookshelf 
I know that all book lovers will love this idea, because it is very unique and will make your space relaxing, colorful and you will have enough space to organize all of your books.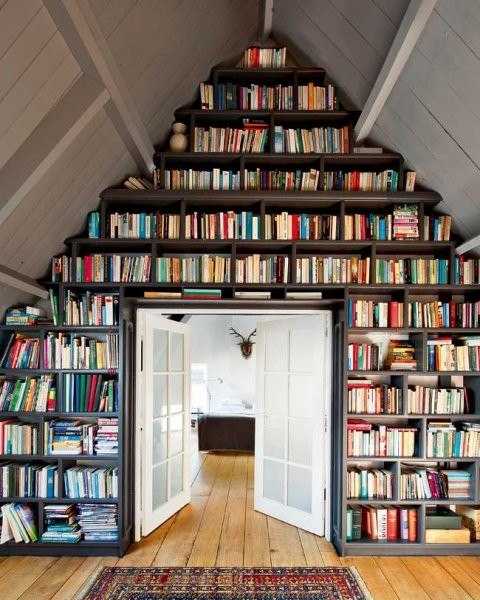 Make Your Bedroom More Functional and Organized with a Wooden Bench 
For more sophisticated and modern look, you can go for a trunk or ottoman and store your books there. But, for more romantic and vintage style, you can opt for a bench like the one below. The idea below will make your space more warm and cozy and your books will be perfectly organized.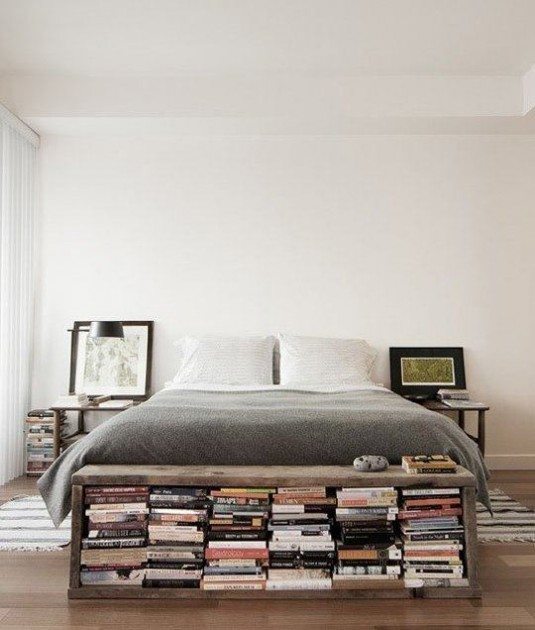 Bed with Extra Storage Are Always a Good Choice
The multi-functional furniture is a great choice for both small and large apartments. The bed below offers you enough space to store all of your books and other items you need to store.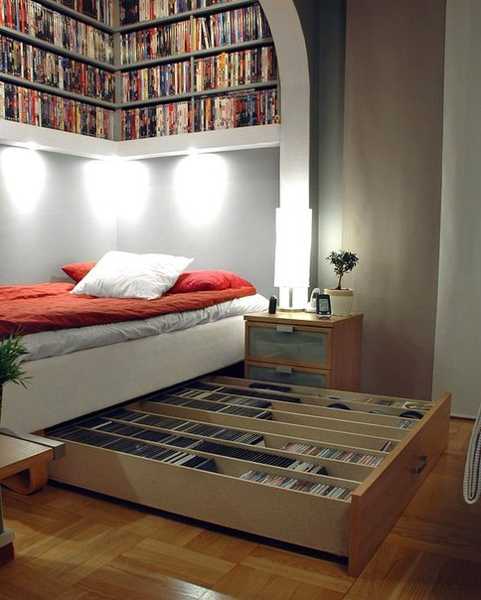 Decorate the Staircase with Books
Usually the staircase walls are decorated with family photos, but that doesn't mean that you should limit yourself to that idea. You can use this space to display your books too.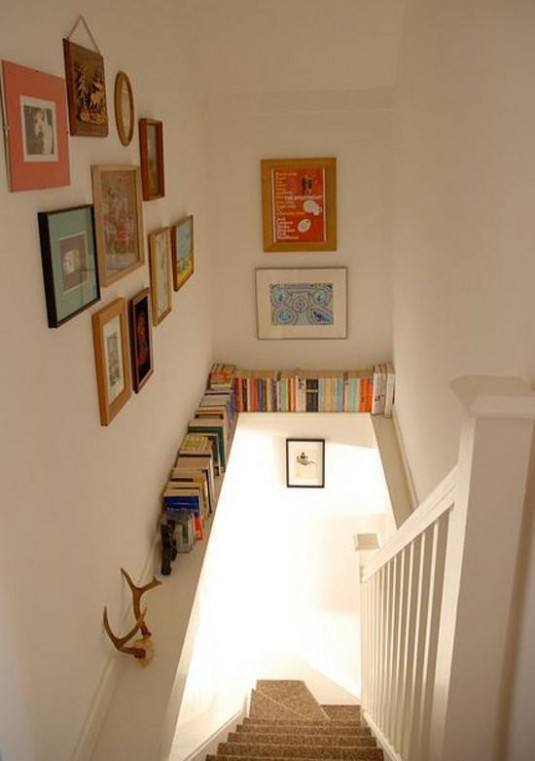 Fantastic Staircase Bookshelf
The bookshelf below is a wonderful idea of how to make the most of your small space. If you are space limited and you don't have enough space for a real bookshelf, then you can think about turning the space under the staircase into a large bookshelf. This is a very clever and very innovate idea and looks fascinating.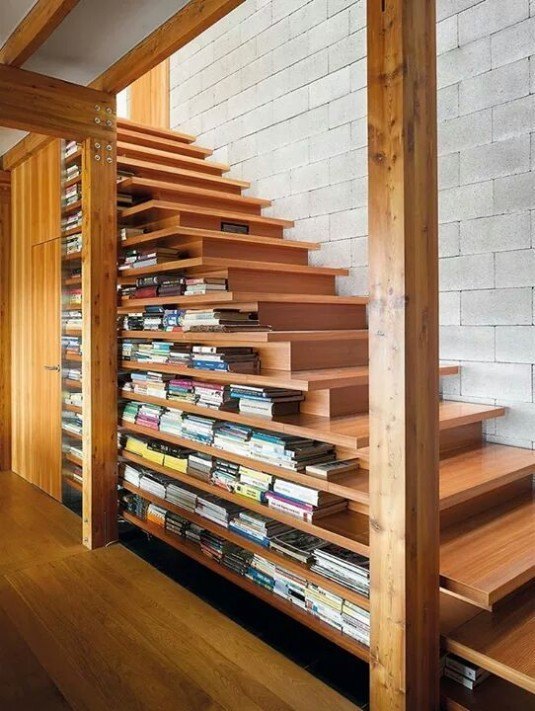 Rustic Corner Bookshelf Made of Stumps
You can add vintage touches to your space with a bookshelf like the one below. Did you know that you can make fascinating furniture and other things out of stumps? Of course you can! The bookshelf below is very easy and quick to make and will give a new look to the empty corner in your living room, bedroom or any other room immediately. For more interesting look, you can pick a leather armchair and floor lamp and turn the empty corner into a relaxing zone where you can read your books and enjoy your free time.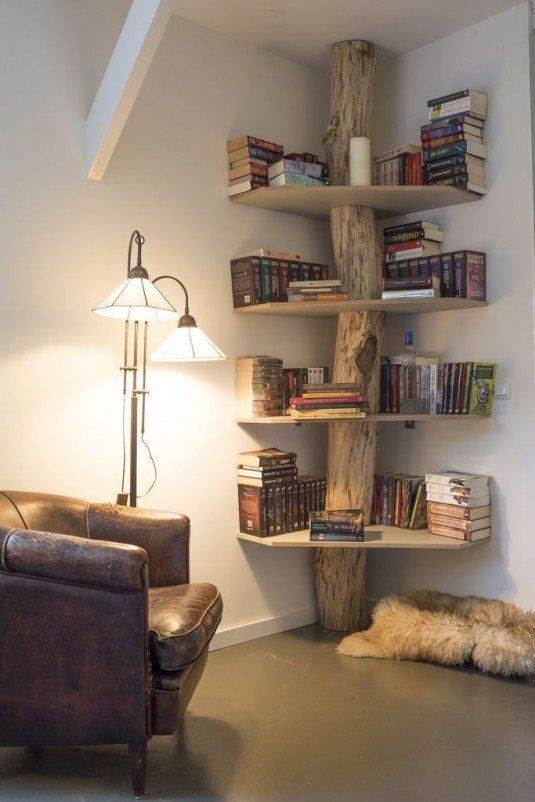 Contemporary Flower Shaped Bookshelf Design for Your Living Room
Nowadays, you can find bookshelves in various shapes, colors and designs, so that you can easily find the one that will fit your interior perfectly. The flower shaped bookshelf below looks amazing and I find it very unique and modern, what about you? If you don't know how to decorate your lonely wall, then the idea below is perfect for you.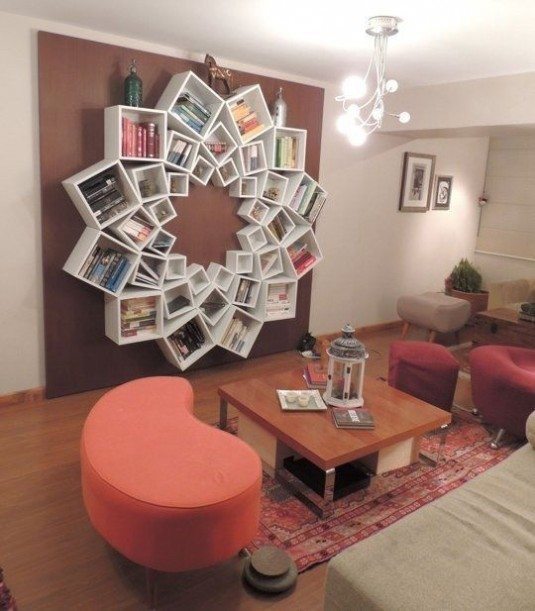 Thank you for reading! Enjoy in the rest of your day and don't forget to stay up to date with the content of Karma Stream!