Ladies and gentlemen, in this article we are going to show you that chalkboards are not only for the classroom! Designers have come up with creative ideas and have put the amazing chalkboards into the interior decor. Scroll down and take a look at the Eye-Catching And Inspiring Chalkboards Bedroom Walls.
SEE ALSO: 5 Things That You Should Know Before Incorporating Chalkboard Walls In Your Interior
The chalkboard wall is just the right one for you if you constantly get bored with things. With this walls you will have the opportunity to create a different look of your space whenever you want, and whenever you are feeling creative to decorate it. The photos below are going to give you some ideas, so check them out!
If you have kids, you already probably know that they love to get some pens, pencil or crayons and write on the walls when you are not around. Well, now you can make a chalkboard in their bedroom and they can write and draw as much as they want. Let your kids creativity flow and give them the opportunity to express it. They are going to love their bedroom design for sure!
If you are in school, or college, and you are about to take some difficult exam, these are the walls that are going to help you to get a better grade. You can writhe the boring formulas that are very hard to learn on the wall just beside your bed, and you can easily learn them by just "staring in the wall".
Chalkboard walls are not only for the kids' room, and adults can benefit from having a chalkboard in their bedroom as well. Write your favorite quote on the wall and get the chance to see it more times a day!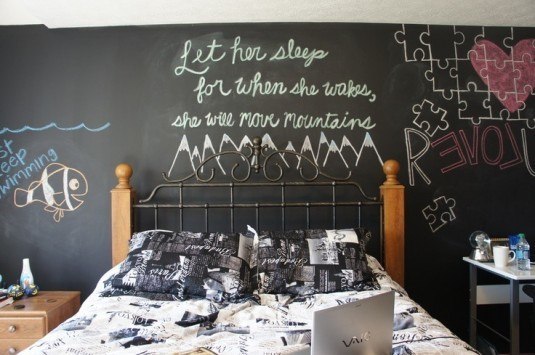 The chalkboard wall is going to give a dramatic and contemporary flair to the modern bedroom. If you love geography this is a great idea for you. You can make the map of the world just above your bed, by writing the name of every single country as it's placed on the map.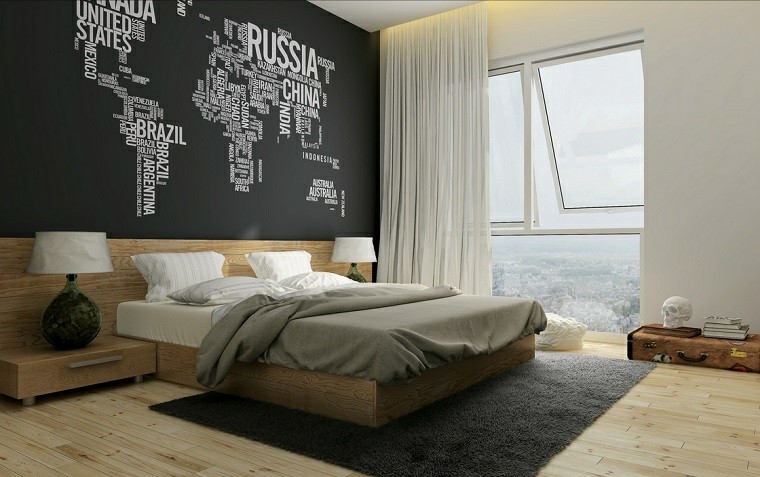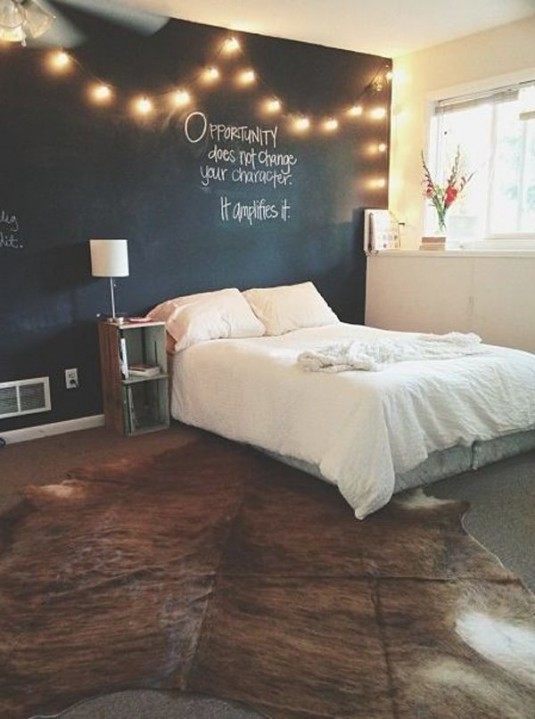 If you are looking for a way in which you can create an amazing accent wall, this is the right solution for you. What do you think about the ideas so far?
Chalkboard walls are more and more seen in the cafes and restaurants, and homes are no exception. Having this type of wall in your interior is really fun and especially easy to make. All you need is a chalkboard paint and you are ready to go. If you like the ideas here, go get the paint and get a stunning wall for yourselves.
This is a popular trend nowadays, so if you are seeking for a way to give your bedroom a modern look, I have good news for you. This is it! This is the right and easy way to get to a modern and contemporary bedroom!