Hey there DIY lovers! In this article I'm going to show you How To Recycle Your Bike In A Useful Way. You can add it both to your interior decor or garden, and we assure you that you will get some super amazing and eye-catching decorations. I bet that you have probably seen a bike used as a decor element in a house or in a yard, and you still remember the wonderful designs. Well, let's make your home or yard unforgettable, and let's make everyone notice them immediately. Check out the ideas that I have collected for you, and see which idea may work for your place the best!
SEE ALSO: Brilliant DIY Ways of Reusing Old Bikes
It's really hard to pick just one favorite,  but there will be ideas that you will like more than others. The design below is one that keeps me restless, and makes me want to make it as soon as possible. This shelf is a nice addition to every home, and it holds the decorative pieces in an original fashion. It's not hard to make this design, so grab your bike and get down to work!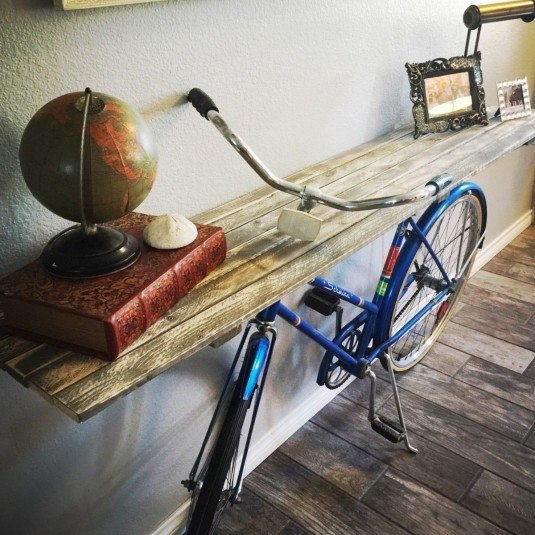 You can make the bike hold a table in any room in the house, and it can also become a part from your bedroom too. You can make your small library with your favorite books by reusing the bike. This design is great because at the same time serves as a bike storage, and you can take the bike out and go for a ride whenever you want. What do you think about the design. I'm sure that you are going to love it!