Hey there! For today, I have "10 Inspirational Ideas That Will Make You Create Your Own Shelves". Let's check them out! Enjoy and have fun!
SEE ALSO: Fantastic DIY Industrial Pipes Furniture Ideas
#1 Vintage Ladder Shelf
Paint your old ladder in the color you want and use it as a home decoration, where you can put books, flower pots, etc. Look at the picture below – it looks magnificent, isn't it? If you like the vintage style, you should definitely try this project out and beautify your home.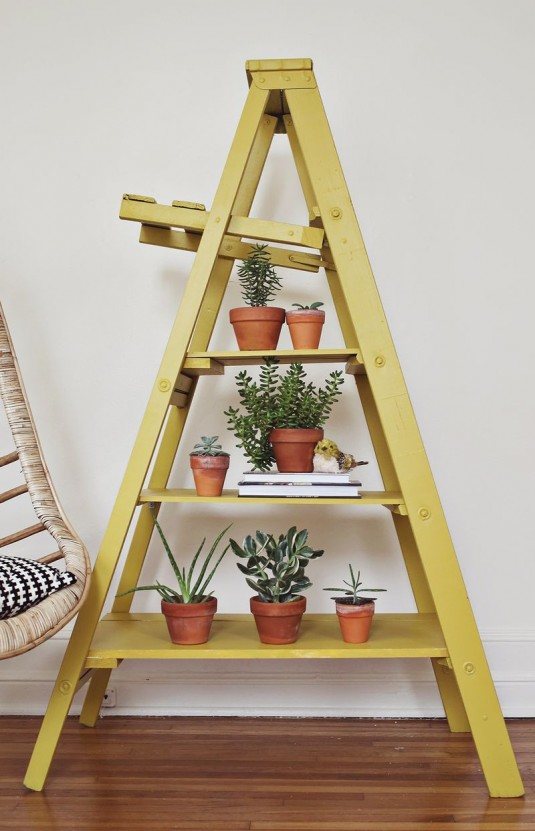 #2 Creative Floating Shelves Made Of Books
If you have million books, but don't have where to put them, don't throw them away. There are so many things that can be made of books, like this shelves below. They look amazing! Choose some interesting book covers and make your own floating shelves for your living room or bedroom.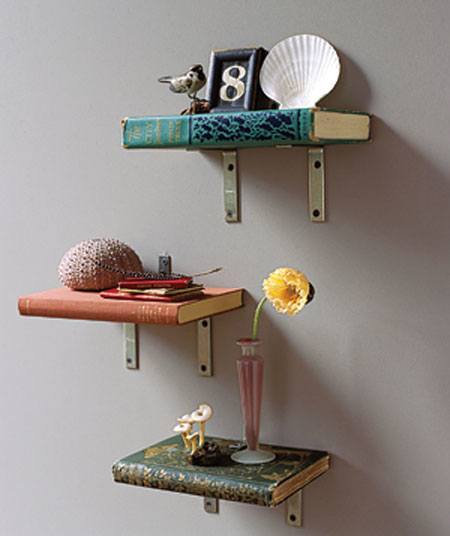 #3 Fantastic Skateboard Bookshelf
Take a look at your garage, you may find the skateboards that you adored when you was younger. Don't throw them away, but use them to create something of them. The idea below is very interesting. If your skateboard is really old, you can paint it or draw some interesting on it and then transform it in this beautiful bookshelf.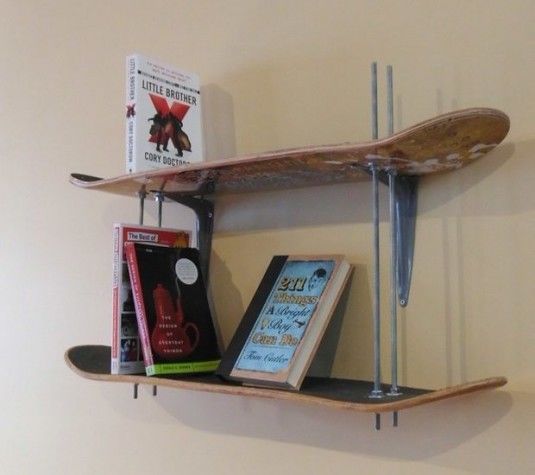 #4 Lovely DIY Drawer Shelves
Everyone can make these amazing drawer shelves. For this project you will need wooden drawers (you probably already have old drawers, if not, go to the local thrift store), dark brown acrylic craft paint, wrappng paper and sand paper, glue stick, laser level, hammer and nails. You will need 1 to 2 hours to make it and it will cost you maximum $12 for the drawers and the paint.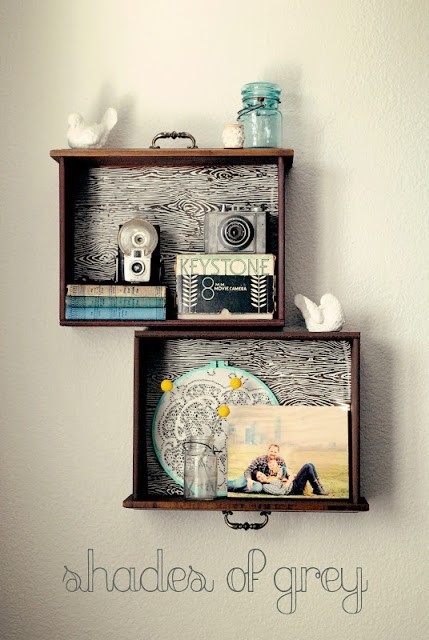 #5 Cute Pink Hanging Shelf
See how a simple box can be transformed into a cute pink hanging shelf. To make this box, you will only need a box, rope, drill and color to paint it. In just five steps, you can make this creative and really cute vintage shelf for your home.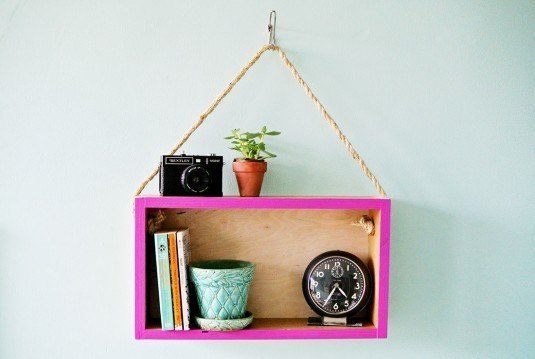 #6 Fantastic Shelves Made of Wooden Crates
You don't have to spend a fortune on new shelves for your room, because there are so many interesting projects that can cost you nothing and in no time. The shelves below are proof of the previous statement. They look lovely and your cosmetics will be organized all the time. You can use some other colors, like pink, blue, green or yellow.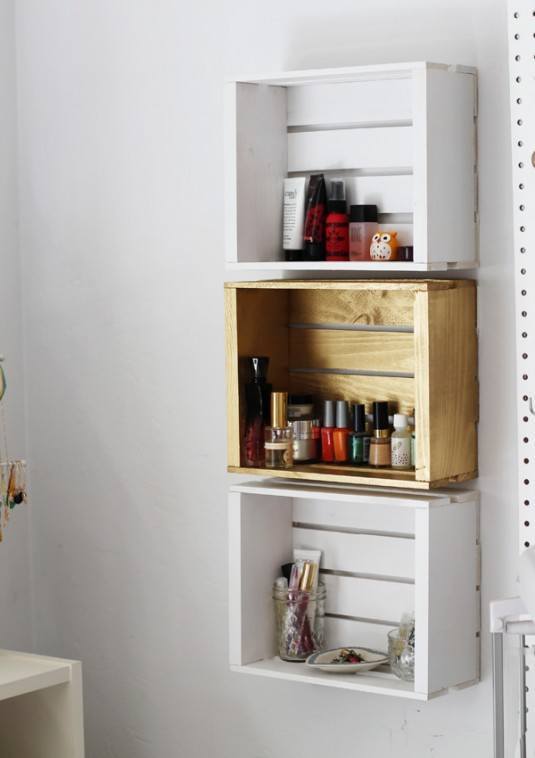 #7 Inexpensive Small Shelf
This inexpensive small shelf will fit perfectly to every interior, especially to the rooms with vintage style. To create it, you will need a small wooden board and two thick leather straps. The shelf is ideas for displaying books and other items that you love.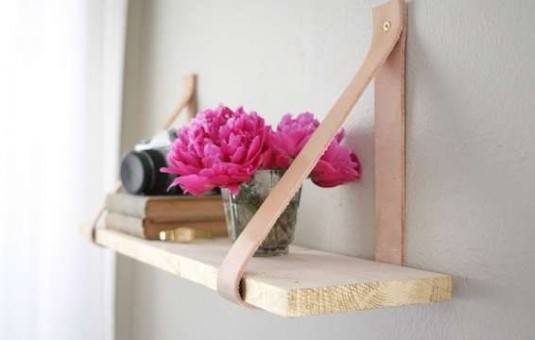 #8 Easy to Make Honeycomb Shelves
Although it may look difficult to create it, it isn't. Click on the ink under the picture to see the full tutorial. These shelves are unique and will beautify your room too. If you like, you can paint them in other color and make your room more interesting and fun place.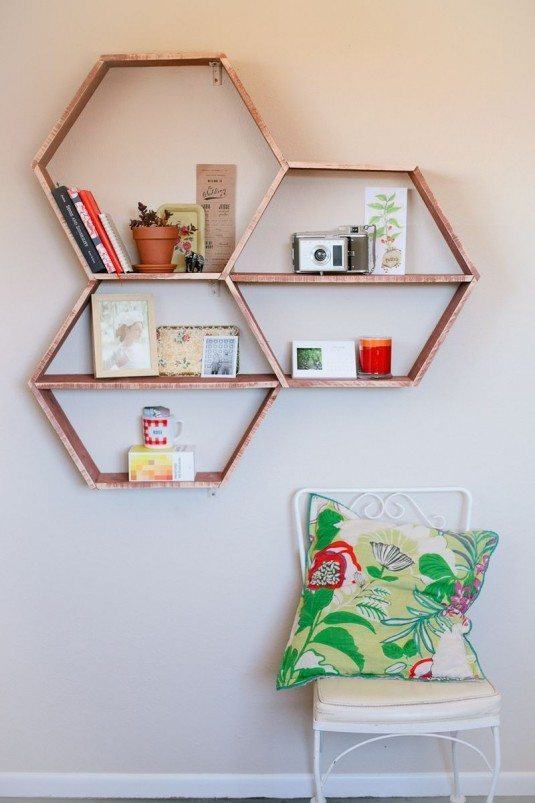 #9 Interesting Shelf Made of Old Wood Crutches
If you have a pair of old wood crutches, it is worth to try this project out. Don't throw them away, because the project looks amazing and you can put it in any room you want. It will look great on the entryway. What do you think?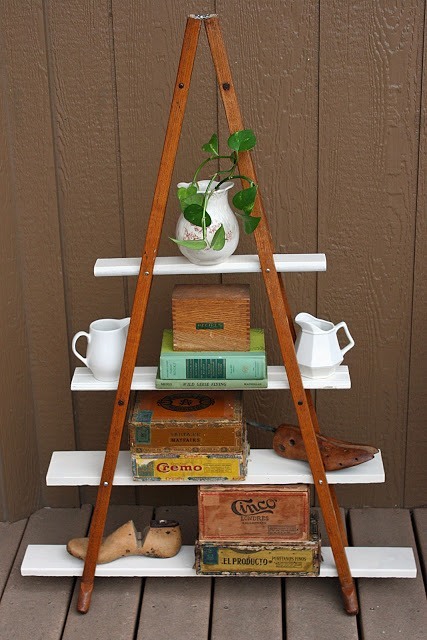 #10 Amazing Shelf Made of Wine Boxes
Amazing project that can be made in just 5 minutes. Do you like it? It looks amazing. If you want to make a statement, you can paint them pink, blue or some other bold color.