If you have some free time and want to improve your diy skills, then you should definitely see these 10 awesome diy outdoor lighting ideas. All of them are very interesting, so check them out. Enjoy and have fun!
ALSO SEE: 10 Of The Best Lighting Ideas for Your Bathroom
Wine bottle torch
If you were searching for something unusual and very creative and innovative, then take a look at the picture below. I haven't seen such a beautiful diy project for a long time. It looks stunning. If you want to learn how to turn your bottles into fantastic and modern outdoor lighting, click on the link under the picture to see the full tutorial.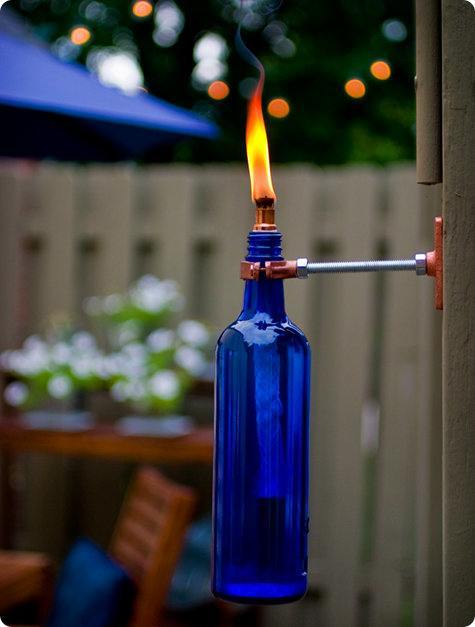 Cube lanterns 
You can brighten up your yard and make it more fun place with these cube lanterns. They are also excellent accessories and decorations for every interior too. Click on the link below to see the full tutorial.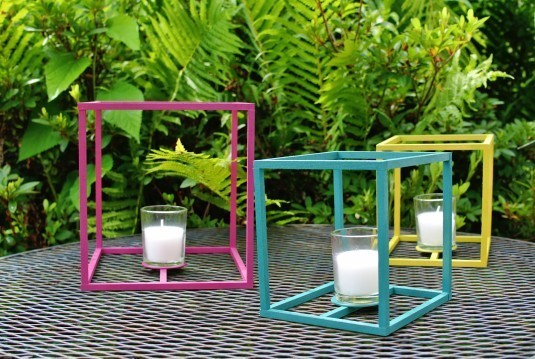 Etsy inspired hanging lanterns
We all know that you can create a better mood using the right lighting. These lanterns are from etsy, but you can make it similar to them, easily by your own. You will only need jam jars, candles, white beans and chain. Try them out and embellish your yard.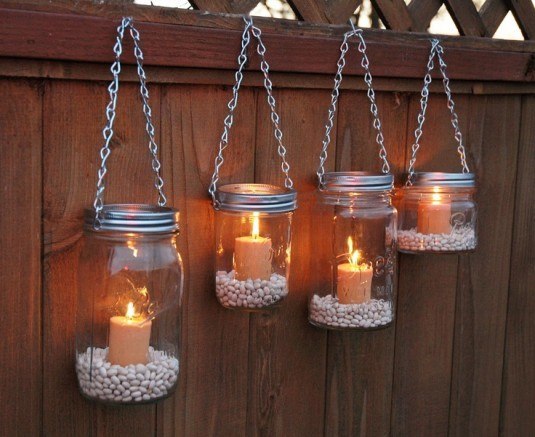 Planter pendant lamp
Do you like this vintage idea? It is very easy to create it, believe me! Even if you don't have a dining table, you can hang it somewhere in your yard and enjoy the nights with your partner or friends. If you don't know how to illuminate a particular space, this outdoor lighting idea is perfect for you. It is very easy and fun to create it.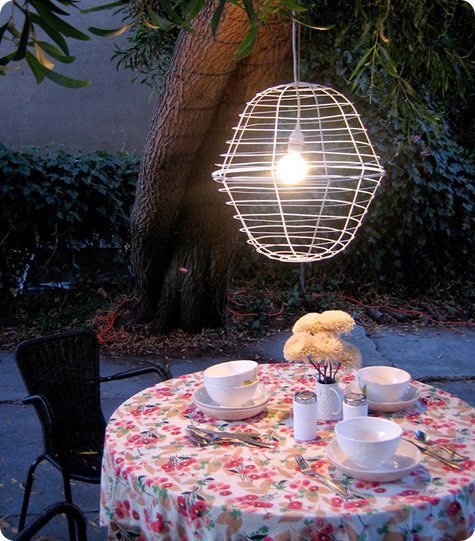 Paper star lanterns 
This project is my favorite. It looks very dreamy and magical for my yard. Plus, you don't need a lot of money to create them. I will try to create them as soon as possible and if you want to add a romantic touch to your yard try them out too.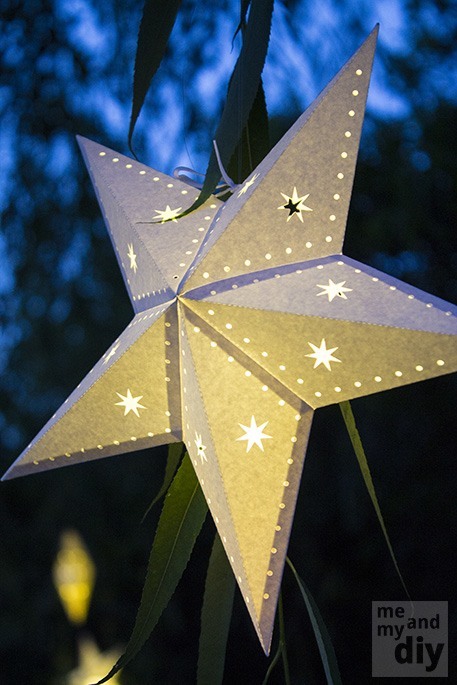 Outdoor tuna can lantern
This lighting project below looks like it is bought from the store and it isn't! You can make it in a couple of minutes and you won't spend a lot of money too. Click on the link under the picture to see the full tutorial and try it out. You will improve your skills and create something very useful and functional.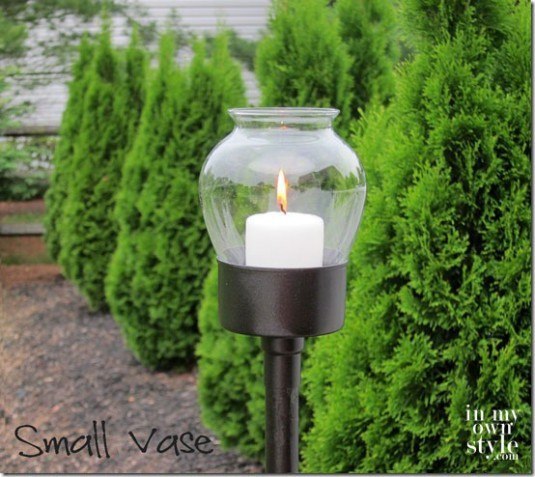 Tin can lanterns
These tin can lanterns are perfect for every backyard and if you enjoy spending time in your yard, then you should definitely create them.
What you will need to create these lanterns are tin cans, hammer, candles, spray, pliers, bailing wire and nail. They are very interesting and fun project, believe me! They are very useful for the summer season too.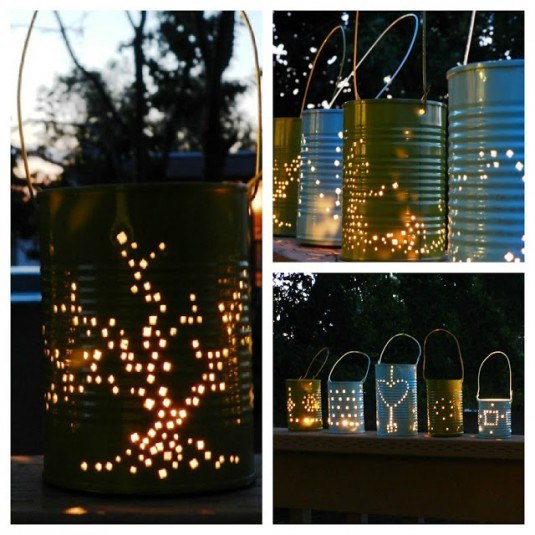 Succulents that glow in the dark
When the weather is warm, you can spend the nights in the yard. This idea below is a wonderful and cost-efficient that will help you lighten up your yard and make it more relaxed and enjoyable place for sitting. These succulents that glow in the dark are self-charging and electricity-free outdoor lighting.
They look nice as an interior decor too. You can make them in any size you want and put them in any room you want, near the window. You will need jars, succulents and paint that glows in the dark.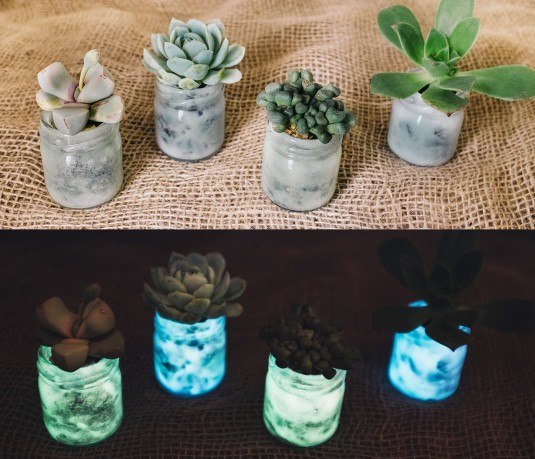 Cupcake outdoor lighting
These lovely cupcake lights will add vibes and will improve the look and feel of your garden. What you should do is to make a cross cut on each cupcake tin liner. If you like these cupcake lights for indoor lamination, then paper liners are fine for you. If the weather is fine, then they will be good for outdoors too. But, in any other case, I need to mention that they won't stand up the rain or the snow. You should be very careful with this type of lighting, because they make you a huge problems if the paper liners touch bulbs. I recommend you not to leave lights on when not present.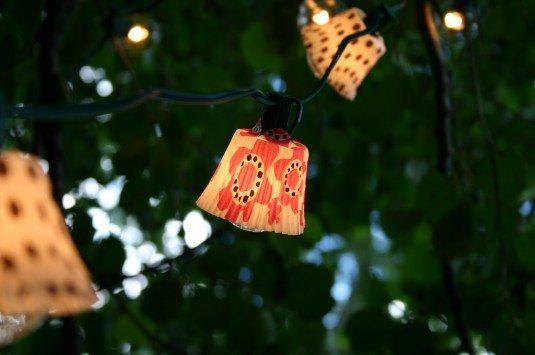 Hanging jar lanterns 
This is one of the easiest, cheapest way to embellish your porch railing and to add some light to your balcony. You probably already have jam jars in your basement or in your kitchen cabinetry, so why not to try it out!? You can create a relaxing mood for nighttime balcony sitting, without worrying about the wind.
You will need the following supplies and tools to make these amazing hanging jar lanterns:
jam jars
wire and wire cutters
candles
needle-nosed pliers
tape measure
long -matches