Pick up the remote, put HGTV on pause, and start planning your own project rather than living vicariously through the happy couples you see on TV. Spoiler alert: Unless you strike gold, your chances of being featured as one of the few chosen homeowners who receive an all-expense paid renovation are slim to none.
If you want to add some much-need natural light into a dark bathroom, expand your closet space, or bring your outdated kitchen into the 21st century, you're going to need to do it yourself… with the help of a few hired hands, of course.
Not sure what steps to take to (actually) turn your vision into a reality? Here's what you need to know to finally get the ball rolling and bring your dream to life.
Organization is everything when it comes to home renovation projects. After you finally pull the trigger to remodel your bedroom or landscape your backyard, you can get so carried away picking out color swatches or loading up at the nursery that you forget to tend to the actual logistics of your project.
Avoid overwhelming yourself by carefully and deliberately writing down every detail of your project that you can think of including the job, materials required, labor involved, and expected time of completion. Try to write down the phases of your project in chronological order; for example, if you're doing a complete kitchen remodel, you'll want to install fresh cabinets and granite counters before laying down new wood flooring.
Once you see your project written down on paper—and all of the accompanying numbers—you can begin to consult your budget. Whether you're tapping into your personal savings or allocating funds through Benji renovation financing, it's important not to spend outside of your limit. The brand new porcelain bathtub will be impossible to relax in if you're too busy worrying about how you're going to pay it back!
When you're allocating funds to your home renovation project, remember to always leave a little bit of wiggle room to cover unforeseen expenses such as faulty pipes and blown circuit breakers. Having this cushion is imperative to avoid going into the red—even if it means nixing that gorgeous, gold-plated Jack and Jill sink.
Pro Tip: Aim for renovations that increase the value of your home's worth, so that if you ever decide to resell your property, you might see a return on your investment. There are also many energy-efficient upgrades that you could save you money if claimed on your tax return.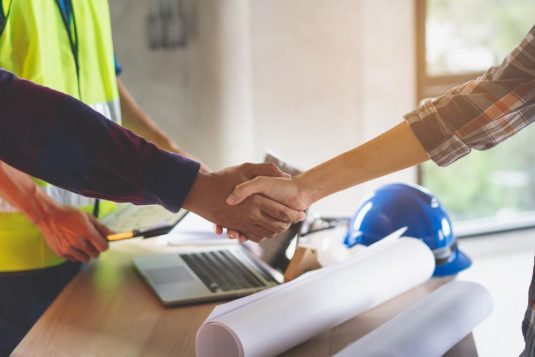 Unless you're going the DIY route, odds are more than likely that you'll need to hire a contractor who can delegate and execute every phase of construction. Your contractor should do more than just supply the labor; they should secure all the necessary licenses and permits your project might need in order to be up to code.
When shopping for contractors, be sure to receive at least three bids and to ask to see their portfolio of work with similar jobs to yours.
This step depends on the depth of your project, but if your renovation involves heavy construction, it might be in your best interest to stay elsewhere while work is underway. Loud drilling, floating dust particles, and hordes of workers coming in and out will definitely interfere with your quality of living… but the end result will be oh-so worth it! Take a look at short-term rentals over nightly hotel accommodations; you'll be more likely to score a larger space at a lower cost.
If you do decide to stay out of the house during the completion of your renovation, make it a priority to regularly stop by the job site. You don't want to be the helicopter homeowner, hovering over your contractor's shoulder and breathing down their neck, but you do need to monitor your timeline and ensure everything is unfolding according to plan. Don't micromanage the workload, but if you do observe any delays or setbacks, be sure to ask why they occurred and what your contractor is doing to remedy the situation.
An immaculate living room or backyard oasis doesn't have to exist solely in your imagination! Take action and transform your living space by executing these five steps.